For anyone working from home, the lines between life and work blur far too easily. Establishing a dedicated workspace is a great way to combat this tendency. However, for those living in a smaller house or apartment, or even a larger house shared with roommates or family, setting aside an entire room as an office is impractical. This is where the corner office comes in. Taking a large room in the house that currently serves another purpose, generally the living room, and rearranging it in a clever, space-conscious way allows working professionals to make the most of their home without sacrificing the comfort of a living room.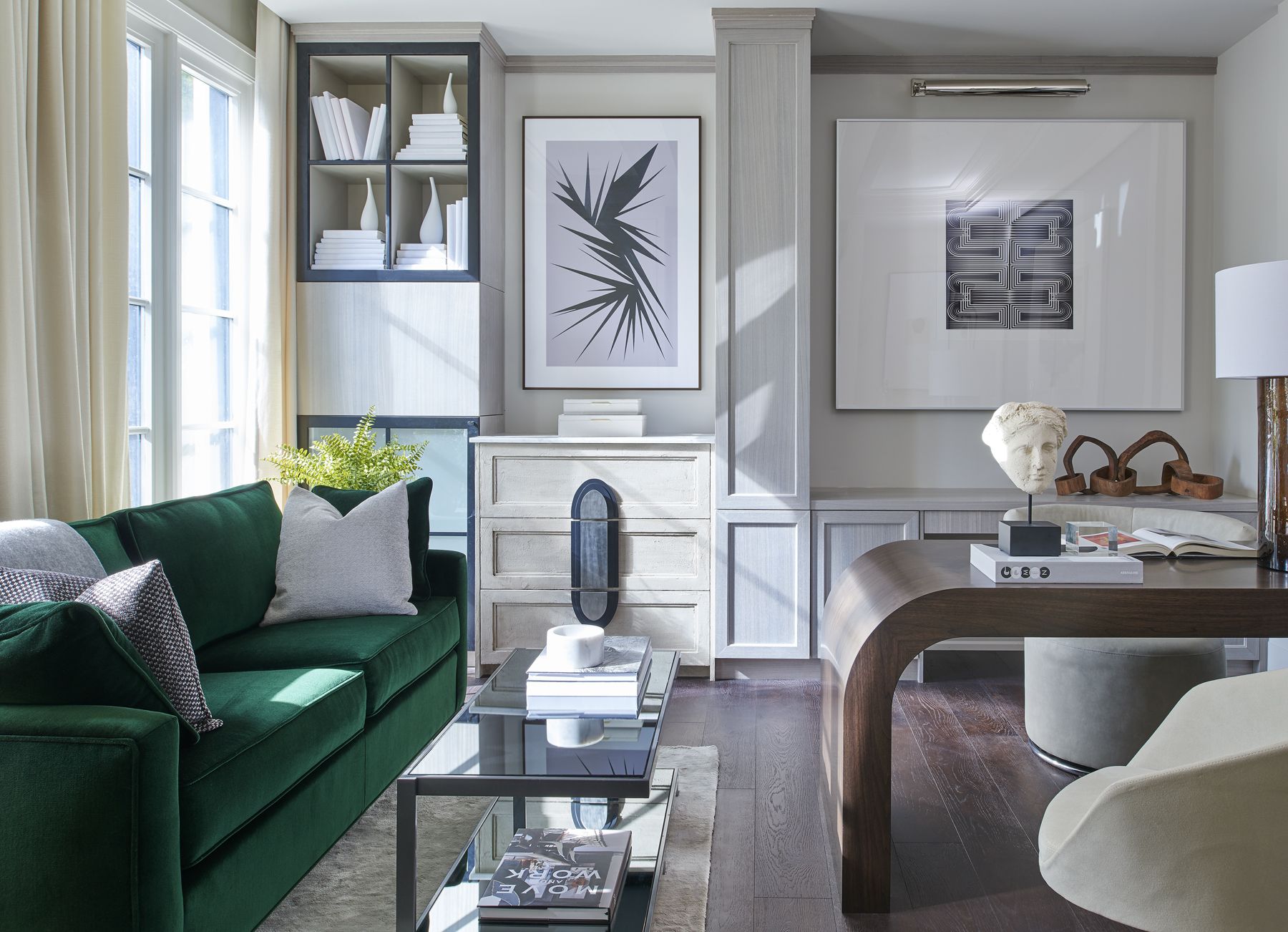 Choosing to design a home "office corner" physically reinforces the separation of your work life while maintaining the convenience and efficiency of working from home. Moreover, furnishing an office can be expensive. With a little pre-planning, your corner office will require minimal extra purchases and provide a budget-friendly solution. Now, let's dig into how to construct a corner office functionally and sustainably.
When building an office corner or nook, location is key. Take into consideration that you will need outlet access or a discrete extension cord. If your carpet interferes with the rolling wheels on an office chair, one solution might be to switch to a chair with feet; another option would be placing a heavy plastic mat beneath the desk. For your corner office furniture, less is more. The essentials are a small table or desk and a chair. Consider whether another end-table in your home can be repurposed before simply purchasing another. If you decide to bring in new furniture, remember to measure your corner space to get the best fit and take advantage of every inch. Ideally, your living room windows already provide an excellent source of natural or overhead light. You may even be able to have your TV monitor double as a second computer screen. Get creative!
Where it is worth investing in an arrangement that subtly separates the corner from the rest of the living room area is in your living room set. You can easily shop around online to find great deals on a matching living room set that will help hold the living room together and keep your corner office from making the entire space seem too busy or cluttered. Get great value on a cheap living room set or sectional that will allow you to literally section off the office from the rest of the room. There is no one right way to do this, so you should consider different types of living room sets before making your final choice. Certain online furniture sellers will even ship your set for free!
Before purchasing your set, consider different arrangement options. You might use a long sectional to create a half wall or arrange smaller pieces like a loveseat and ottoman to exclude the office's floor space. This second method also allows you to access the office from any direction and is particularly effective if you start with a smaller space. You may even need to divide your living space into equal halves to create a comfortable workspace. Finally, consider the details, like leaving enough space behind your office chair and not covering up any air vents. If your space includes a radiator or window unit air conditioning, these will also factor into the corner office placement.
Now that we have covered the why and how all left is deciding when to start creating your own office corner! Another great tip for setting up your new home office corner is to keep only the essentials on your desk while working. There are other places in your home (closets, drawers, the attic, the basement) where you can store extra supplies to retrieve as needed. Anything you will not need every day should have another home. Not only will this maximize your corner office space, but it will keep the entire room feeling more open and welcoming.